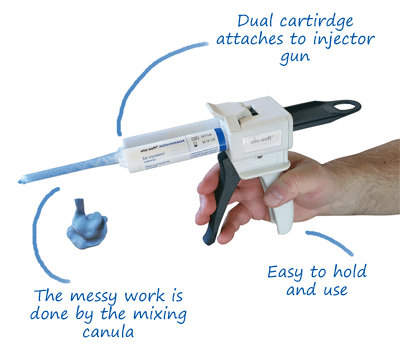 A range of material, equipment and accessories for the professional for use in taking hearing aid ear impressions.
oto-soft is a high quality brand from a German manufacturer, exclusively available through Connevans.
We are able to offer two alternative methods of mixing and inserting the earmould impression material. Our recommended choice is the cartridge and injector gun. This is less time consuming and less messy as all mixing is done by the disposable mixing canula. However we also offer the Soft IT earmould impression material which is mixed manually using a spatula. For more information about either of these, please see below or contact us on 01737 247571 or by email to info@connevans.com

Please note: these items are not for use by unqualified individuals or for use at home. Taking ear impressions can be dangerous if you do not know what you are doing!