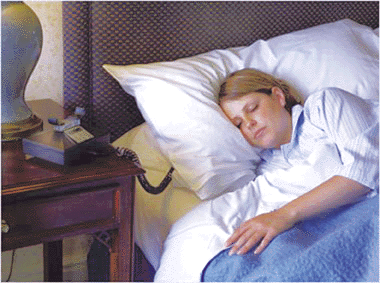 Deafgard is a stand alone, wire free fire alarm listening device for deaf and hard of hearing people.  Deafgard consists of a battery-powered, acoustically triggered bedside unit that incorporates a high intensity strobe and a connected vibrator pad that is placed under the pillow.  When Deafgard hears the fire alarm, the under pillow pad vibrates waking the sleeper and the activated flashing strobe provides the complementary visual indicator. Deafgard will help residential areas comply with important elements of the Disability Discrimination Act.


How does the Deafgard work?
The Deafguard unit monitors the sound around it every 4 seconds, if an alarm sound greater than 65dB(A) is detected by the unit for 4 times in a row (approx 16 seconds) an alert will be triggered.

Information about the sound of a fire alarm 
The British Standard for fire alarm installation, BS5839-1:2002, (Clause 16.2).
"The sound pressure level of alarm signals should be generally, throughout all accessible areas of the building not less than 65dB(A) ..... where the sound pressure level of background noise is greater than 60dB(A), the sound pressure level of the fire alarm signal should be 5dB above the sound pressure level of background noise."

It also states: The sound pressure level of alarm signals "should be not less than 75dB(A) at the bed head within rooms in which the fire alarm system is intended to rouse people from sleep".
---