Neckworn receiver for hearing aid users using 'T ' and non-hearing aid users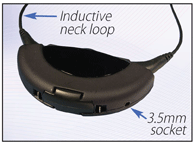 All the neckloop systems offer excellent field strength and good mono sound quality. They also all have a standard headphone socket, making them ideal for those who have a hearing aid but don't wear it all the time. 
The inductive neckloop allows hearing aid users to listen on the Loop Programme ('T') of their hearing aid, which greatly improves the sound quality.
Non hearing aid users can use the 3.5mm stereo headphone socket to plug in their own headphones or earphones ‒ click here for our headphone range.